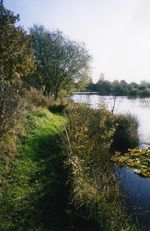 The main lake which is approximately 1.13 acres varies in depth between 1.5 metres and 2.75 metres and is spring fed, so it's incredibly clear.
Within the lake there are many beautiful water lilies of varying colours and other aquatic plants, which add to the whole natural surrounds of the lake, with its king fishers, reed warblers, ducks, chaffinches, dragon flies and damsel flies, it is the most idyllic setting for fishermen and people who appreciate the countryside alike.
The main lake holds many different varieties of fish, the principal being Crucian, Mirror, Ghost and Common Carp, Roach, Perch, Rudd, Pike and Eels many of these were already there when we purchased the lake, but we have since stocked with more Carp of various varieties and sizes.
There are 22 fishing swims all accessed by the path that surrounds the lake.
Nets bagged usually range with fish between 2 - 15 lbs, the largest fish caught is a mirror of 22 lbs. Nets in excess of 75lbs are not uncommon.
The match lake which is .70 acres with a depth of about 1.70 metres was excavated some six years ago and is clay lined; you can see from the arial photo provided by google maps the difference in colour from the spring fed main lake.
This is stocked similarly to the main lake with the addition of Bream. There are 18 pegs on this lake all with good access. Again this also has the same wealth of 'flora and forna' as the main lake.
The images show the footpath on the opposite sides of the banks - click to enlarge.