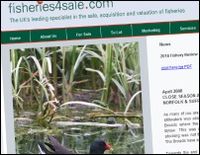 In a recent article on fisheries.co.uk, a fisheries for sale website run by estate agency, Fenn Wright, the market for recreational and sport fisheries improved considerably during 2010.
Does this mean there's potential in fishing lakes as an investment?
We bought Aslacton lakes in 1995 as both an investment and a place to take our children to play and so that we could unwind and relax and of course, fish.
Over the last sixteen years we've let the lakes to a small group of keen fishermen under a simple membership scheme.
Whilst now is the time to realise our investment - children now grown up - there is evidence to suggest the very worst effects of the recession are over and recreational investments are gaining popularity once more.