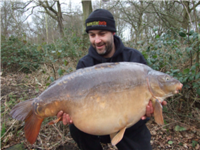 It has taken three years of patience for angler Ian Dowe to land a 51lb mirror carp from Lenwade Charity Lake in Norfolk as reported by Angling Times
The carp, affectionately named Baby Face, has alluded fishermen since it was last caught in September 2010. Baby Face is only the third fish to be caught from Lenwade Charity Lake in Norfolk this year.
Ian told the Angling Times: "This was my first time out using the bait [Essential Baits B5 boilies] and I couldn't have asked for a bigger confidence-booster than to catch the lake's biggest resident and smash my seven-year-old pb [personal best] of 34lb 4oz.
Ian continued: "It was a bit nerve racking when I realised which carp I was connected to, but everything went well and she dropped in the net first time. There are still a couple of fish in the lake which I'd love to catch, including a mirror which hasn't been out for two seasons and last weighed 39lb 2oz."
Image: Angling Times